Caller
Above: Calling for Whapweasel at Towersey Festival 2022
Alison has been calling for ceilidhs professionally for more than fourteen years and has worked with numerous bands including Whapweasel, Blackbeard's Tea Party, the Glorystrokes, Lasair, the Gloworms, Take The Biscuit, Chalktown, Quicksilver, Bowreed and the Antler Ceilidh Band. She has called at many events for experienced folk dancers, including Towersey Festival, Cambridge Folk Festival, Sidmouth Folk Festival, Bristol Ceilidh, Meltdown Ceilidhs, White Horse Ceilidhs, Danson Folk Dance Club, Oxfolk, and the Ceilidh Club in London, as well as countless private events – weddings, family parties, student events, Burns' Night ceilidhs, May Balls and Hogmanay parties.
Alison can work with bands and with recordings, and has her own PA system.
Calling Style
Alison is known for her calm, efficient walkthroughs, calling with patience and humour.
I plan my dance programmes carefully to include a variety of formations and figures, and where possible I also get to know the repertoire of the band beforehand so that I can consider which sets will work best with each dance.

At weddings and other celebrations with a lot of beginners, my aim is always to get people dancing as quickly as possible, so I'll choose easier dances with a range of easy figures to keep things interesting. I also look for opportunities to keep up the energy and excitement in the room – like cheering, freestyling and laughter.

At festivals and ceilidh series I always aim to include a few more unusual dances to keep things interesting for regular ceilidh-goers whilst still catering to the ability of newcomers. As a dancer myself, I always find ceilidhs more fun when I come across a dance I've not seen before!
Videos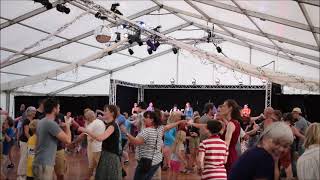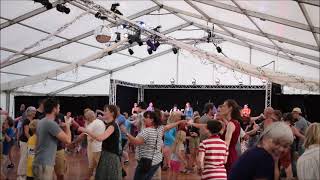 Upcoming Public Calling Events
Saturday 20th May 2023: calling for Out Of Hand @ Ruff Ceilidhs 
Saturday 26th August 2023: calling for Granny's Attic @ Towersey Festival
More to come – watch this space!
Previously in 2022:

~ Bristol Ceilidh (with Antler Ceilidh Band) in February and June

~ Gate To Southwell Festival (with Blackbeard's Tea Party) in July

~ Towersey Festival (with Whapweasel) in August

~ And many private events
Photo Gallery
Original Dances
Third Time Lucky (2019)
Dance Lists
Blackbeard's Tea Party at Gate To Southwell Festival 2022 – set list from 16th July 2022
Whapweasel at Towersey Festival 2022 – set list from 26th August 2022
Testimonials
"Alison is a great caller to work with and I have been booking her more and more recently. Her professionalism is fantastic and she is really well organised. Her enthusiasm is infectious so that she is able to get everyone joining in and her skill in choosing and teaching the dances means that it is fun for everyone. I have now worked with her in a wide variety of circumstances and her superb fiddle playing is definitely a bonus to me as a band leader when we need to play music for listening." – Mike Ruff (Tradamis, Quicksilver)
"Our event was a busy youth camp with Woodcraft Folk, and the ceilidh got everyone dancing. … The caller was funny and really understood the age and mood of the audience, as well as accounting for a big age range (from 12 – 80). We really appreciated that she explained partner dances with '1' and '2' rather than by gender as well. The dances were varied and managed to include some very complex sequences without confusing our group, which made the evening even more enjoyable." – summer camp ceilidh with the Antler Ceilidh Band 2019
"A few guests pointed out that the calling was the clearest they had heard for a long while, and that the dances were pitched at just the right level of complexity and fun." – 30th birthday party 2018
"They taught everyone a waltz for our first dance which was really fun, and then the rest of the evening the music was excellent and the calling was really simple to follow. We and all the guests had a wonderful time, thank you so much!" – wedding ceilidh with the Antler Ceilidh Band 2019
"Good selection of dances. Brilliant calling so even the 1st time dancers can dance the night away." – Bristol Ceilidh 2018
"The caller was wonderful and the dances were adjusted perfectly for the small space (though the cramped space made it even more fun we think!) … Even my Uncle who didn't dance at his own wedding loved the Strip the Willow finale!" – wedding with Bowreed 2017
"Alison was a really fantastic caller" – 60th birthday party
"Thanks a million for Saturday. You played a blinder." – primary school fundraiser
"I just wanted to thank you very much for the ceilidh on Burns' Night. Everyone had a wonderful evening, really enjoyed themselves and it was great fun!" – Burns Night ceilidh
"I was impressed by this caller working with Blackbeard's Tea Party last night at Oxfolk… We finished with walkthroughs quickly and got on with the dancing. There seemed to be little confusion or tendency to break up into discussion groups… I also noticed that her calls were very well timed." – Oxfolk ceilidh series with Blackbeard's Tea Party